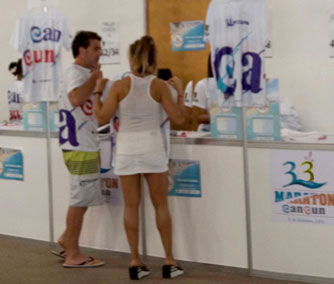 Bienvenidos !

Cancun Marathon 2016
Bib pickup
At the package pick up, you must have the official registration confirmation printed and presented with photo ID.
No handwritten confirmation of registration will be accepted. You must bring a valid photo ID to Packet Pick-Up.
Unable to attend the Expo?
For the case you are not able to pick up your packet yourself, a friend or family member may pick up your bib.
The person picking up your packet should bring the note (a printout of an email) to the Expo, duly signed.
Important
Runners may not transfer their race numbers and/or timing chips to other runners. Any runner who is found guilty of breaking this rule will be disqualified.
There will be no packet pick-up and no t-shirt pick-up at the race site on Saturday, December 10.